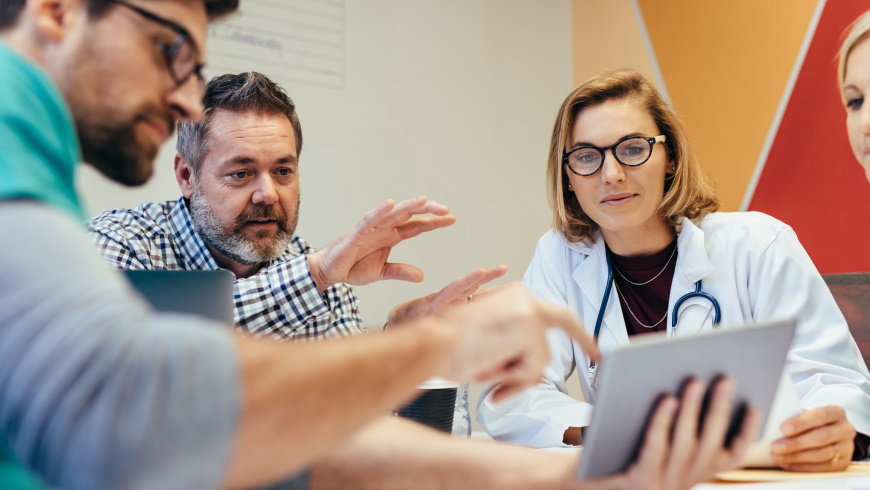 How Revenue Integrity Affects Hospitals' Bottom Lines
Bridge the Gaps Between Operations, Coding, and Your Hospital Extended Business Office
The goal of a revenue integrity program within your hospital is to develop clinical and operational workflows that produce the right documentation – including coding and charges – the first time, without need for corrections, which delay reimbursement and payments.
Your health system likely has created new roles dedicated to preserving revenue integrity, focused on better coding and charge capture to reduce noncompliance, minimize expenses caused by claim edits, and optimizing patient and insurance payment remittance.
Your bottom line is important, and having good operating margins allows you to continue providing the exceptional patient care you're known for. Revenue integrity practices can keep you operating well into the black, and working with Assistentcy as your extended business office (EBO) medical billing partner can, too.
The Evolution of Revenue Integrity
As health systems began adopting risk-adjusted and value-based payment models and Medicare added hierarchical condition categories to assess patient risk as part of payment consideration, precise coding became even more important. Of course, accurate coding was always important, but now it requires even more coordination throughout the revenue cycle.
Revenue integrity can have a range of goals, including:
Improved revenue capture
Improved documentation
Reduction of accounts receivable (AR) days
Improved charge redundancy
Charge process efficiency
Billing system edit resolution
Workflow optimization
Response to third-party charge audit requests
Regardless of the ultimate goal, a revenue integrity program must focus on developing clinical and operational workflows that do not require frequent charge capture edits.
Create Your Own Standards
Your revenue integrity program will likely be a do-it-yourself design effort, because as of right now, industry standards do not exist. The National Association of Healthcare Revenue Integrity (NAHRI) offers resources for launching your own program, including sample proposals to share with your c-suite leaders, action plan development documents, and project spreadsheets.
For ideal results, experts recommend assembling a committee or hiring a new department to spearhead the creation of your revenue integrity program, depending on which will work best for your business.
Hiring a Revenue Integrity Team
You've no doubt been focusing a lot of energy and effort on the revenue cycle, but revenue integrity is an area that needs just as much attention. A recent Healthcare Financial Management Association survey of 125 healthcare finance executives found that 22 percent identified revenue integrity as their leading priority. However, less than 44 percent have instituted revenue integrity programs within their practices.
The return on investment for a revenue integrity department is measurable, specifically because of revenue capture and risk avoidance. You also can think of a revenue integrity team as one to lead efforts to coordinate processes for claims and charges, bridging between billing (even if you contract with a hospital extended billing office like Assistentcy), and daily operations.
Your revenue integrity leadership should have an expert-level understanding of:
Quality assurance statistics
Clinical operations and billing office workflows
Regulatory changes – specifically those that affect charging practices
Revenue cycle internal audit activities
Tracking, trending, and analysis of unbilled reports and charge review results
Clinical charging technology and its effect on revenue
Many healthcare enterprises see best results when they hire a revenue integrity team with experience with workflow optimization and clinical documentation improvement – perhaps Lean Six Sigma skills – along with compliance, data analytics, and business intelligence. NAHRI offers certification, so it may behoove you to hire someone with these credentials.
Free Up Time to Perfect Your Revenue Integrity by Hiring an EBO Medical Billing Company
When your revenue cycle team focuses all their energy on in-house coding and self-pay medical billing, it may be difficult for them to efficiently design and assemble a revenue integrity program. Fortunately, there are resources that can help you minimize AR days, improve your bottom line, and jump-start your revenue cycle. One of those is Assistentcy, an extended business office that works on your behalf to recover self-pay patient accounts and develops an early-out program to resolve accounts in the earliest phase of delinquency.
You can't develop a revenue integrity program when your revenue cycle needs help first. Contact Assistentcy to learn how we can help you change your circumstances. Call us at 913-401-4752 if you're local to the Lenexa, Kansas, area, or 888-455-7498, or send us a message online. Assistentcy serves clients all over the United States, and we'd love to walk you through what you can expect from a partnership with us.