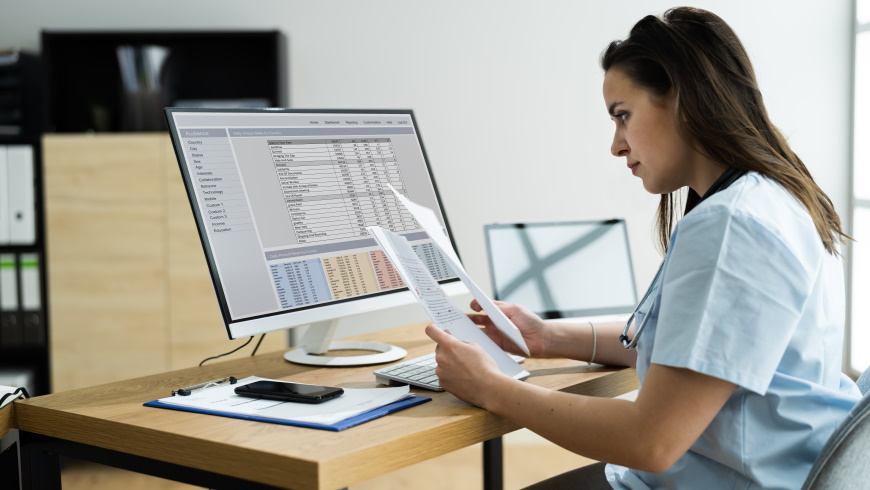 Avoid Medical Billing Pitfalls with a Strategic Revenue Cycle Management Partner
Contact Assistentcy to Learn How a Medical Extended Business Office Can Help You
To maintain your hospital's cash flow, you need to stay up to date with the ever-changing landscape of health insurance and billing practices. Your revenue cycle management (RCM) strategy must keep up, or you'll find yourself with lots of AR days, unpaid patient accounts, and frustrated physicians.
Without the right kind of revenue cycle management, you're setting yourself up for failure and are likely to experience multiple pitfalls that befall poorly managed revenue cycles.
Frequent Errors While Processing Claims
You ask a lot of your office team. Not only are they helping to admit patients, updating electronic medical records as needed, making appointments, coding, and generally keeping your practice running, but they also are responsible for ensuring patients pay their bills and for filing claims with insurance providers.
There's no doubt it takes a competent and smart team to juggle all that. However, it's that level of multi-tasking that results in repeated errors during claims processing or patient account maintenance. It's also possible that in their claims processing, they miss patterns that could be losing you revenue.
Reviewing the entire claims process as part of your RCM helps staff spot and stop errors to reduce claim denials. Working with an extended business office or RCM vendor takes the pressure off your team, so they can focus more completely on patient care and service.
Insurance Claim Denials
There are two main ways health care entities lose out on revenue: unpaid patient accounts and denied insurance claims. The most common reason for denied claims is simple human error, especially during the coding process.
If a procedure is miscoded, it's possible the insurance company will deny the claim, making even more work for your team. They'll have to provide customer service when the patient calls in, wondering why they suddenly owe thousands of dollars in medical bills, and they'll also have to re-file the claim with insurance to get appropriate reimbursement.
Recent healthcare regulation also has resulted in an increase in claim denials, mostly in an effort to reduce healthcare fraud and abuse. Unfortunately, it ends up affecting people like you who are providing ethical medical care and coding and billing honestly.
As Accountable Care Organizations (ACOs) take closer looks at claims, there's an increase in claim denials, especially when you factor in that human error already plays a role in those.
The result? Both patients and health care providers lose out on money and pay more out of pocket. Frequent and strategic revenue cycle reviews can help prevent these losses and reinforce revenue integrity.
Late or Lacking Patient Account Payments
Reasons abound for why patients don't pay their balance due on their medical bills, for example:
Insurance denied a medical claim, and the patient doesn't understand what to do next.
The patient can't afford to pay their debt in full.
The patient didn't understand what they were responsible to pay.
The patient doesn't understand how to go about paying the bill.
The current state of health care in this country puts the onus on the patient to pay for their treatment because it's rare that traditional medical insurance covers 100 percent of a procedure or service. This has led to an onslaught of physician practices collecting, at a minimum, a patient's co-pay prior to delivering any care at all, while others expect full payment for the visit before the patient can see a medical provider.
As of 2018, hospitals collected 30 percent of their revenue straight from patients; in 2002, they collected just 10 percent of their revenue from patients. Some providers — as patients have pointed out — worry that the people they're providing care to will balk at the notion of pre-payment, or that it comes across as a high-pressure tactic.
You can either request payment collection before treatment, or you can dedicate a significant portion of time following up with patients whose accounts have not been paid — and many practices end up doing both. This is where patient education on insurance and payments comes into play.
Rather than delegating this time-consuming task to your team or having to spend money to hire more people to try to close the gap in your revenue cycle, hire an extended business office like Assistentcy, to take care of all aspects of your patient accounts for you.
Skipping Eligibility Verification
For costlier procedures, like surgeries, MRIs, extensive tests, and physical therapy, most practices investigate whether a patient's insurance will cover them before ever providing treatment. There are times, though, that the step is overlooked, and the insurance provider denies a claim, leaving the patient to foot the bill.
This is a recipe for delinquent medical bills! Verification of eligibility prior to rendering services is vital for your RCM. Start the verification process before the patient appointment is ever officially made.
Maximize Revenue and Decrease AR Days with a Hospital EBO
Effective revenue cycle management maximizes your practice's revenue. To strengthen your RCM while alleviating the burden from your office teams, hiring a medical extended business office is mission critical.
Assistentcy keeps up with healthcare legislation and regulation, manages your patient accounts, and increases your revenue while providing patient education and recovering self-pay patient accounts with a customized early-out program.
If your revenue cycle needs help, contact Assistentcy to learn how we can help you change your circumstances. Call us at 888-455-7498, or send us a message online. We serve medical practice clients across the U.S., and would love to show you how partnering with us can revolutionize your revenue cycle.