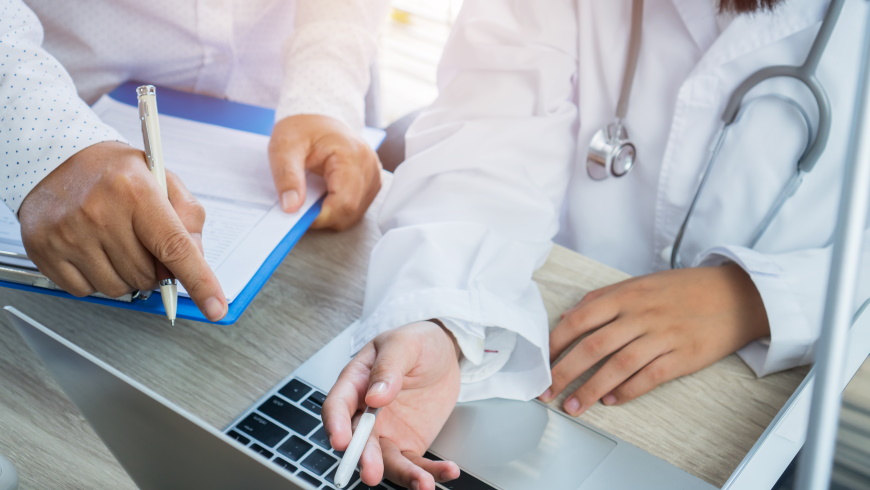 Making Self-Pay Work for You: Seven Tips for Receiving Patient Payments
Simplify Self-Pay Account Management to Improve Your Bottom Line
With self-pay patient accounts becoming more and more common, medical practices and hospitals have had to get creative and do more work to implement policies and obtain payments from patients without insurance, or with a balance that insurance won't cover.
This is especially true for patients who have chosen an out-of-network provider, for those who opted for an elective procedure, and for patients with high-deductible health plans that ask the subscriber to pay out of pocket prior to medical insurance coverage kicking in.
To help minimize your accounts receivable (AR) days, follow these seven best practices toward receiving patient payments and simplifying your self-pay account management processes.
Develop a self-pay policy in your medical practice and communicate it to your patients.
Writing a self-pay policy and posting it in your practice or asking your patients to sign an acknowledgement of it can maximize how much you take in from your self-pay accounts. If patients understand their financial responsibilities and know that you'll work with them to settle outstanding balances through payment plans, they are likely to pay off their accounts more quickly.
While creating a self-pay policy can feel overwhelming or difficult, an extended business office (EBO) like Assistentcy can assemble an early-out program for you, and seamlessly integrate it with your medical practice. If you're unsure how to proceed with developing your own policies, contact the experts at Assistentcy.
Train and educate your office staff on the importance of self-pay debt recovery.
Ensure everyone in your medical practice understands your policies on self-pay patient accounts. Have them role-play explaining account balances and patient accounts to each other, taking turns pretending to be the patient and the office staff. Provide scripts if necessary to help guide the discussion.
Highlight the importance of recovering self-pay patient debt by sharing financial information with your team so they understand the real-world implications of self-pay patient accounts.
Collect at least a partial self-pay payment before or after the patient's appointment.
While demanding a full payment for several hundred dollars toward medical care at the time of service does not always feel appropriate or comfortable for some patients, giving them the opportunity to pay toward their balance can be helpful. It also presents your front desk staff with the opportunity to provide gentle patient education regarding insurance coverage, deductibles, co-insurance, and copays.
Remind patients that their balances are due using multiple communication methods.
Not only should you let patients know in advance – at the time of their appointment – that they will have a self-pay balance, but you should also remind patients about their amount due using a variety of communication methods. This includes via telephone, during appointment-reminder phone calls and phone calls specifically for reminding them of their bill; by mail, on your practice's official letterhead; and electronically, such as through email or texting.
No time for these tasks? Assistentcy will take over these steps for you, freeing up you and your staff to focus on patient care and daily operations. Ask us about our custom early-out programs.
Follow up with self-pay patients often.
Recovery efforts for self-pay balances should begin the day of the patient's appointment and continue through payment acceptance. Following up regularly is key to improving your bottom line and reducing AR days.
You can:
Call the patient prior to the appointment, the day of, to let them know they will have a balance and encourage them to make self-pay payments.
Make a reminder call, send a letter, and send an email each payment cycle.
Use a patient portal to post balances and take payments.
Let your patients know of every form of currency you accept, including check, cash, credit card, or any other form you'll take.
With a proven track-record of self-pay patient account recovery, Assistentcy will apply their communications best practices to rapidly improve your bottom line. See how.
Incentivize paying in full in a timely manner.
Encourage patients to pay their balance or amount due the day of their appointment by incentivizing them to do so.
For example, you could offer a:
Time-of-service payment discount, with a percentage off for patients who pay in full the day of their appointments.
Cash payment discount, for patients who opt to pay in cash in lieu of a credit card.
Payment plan discount, for patients who take on a payment plan and make regular payments toward their balance owed.
Forward outstanding patient debt to a collections agency only after thorough consideration.
Please know that despite doing everything in your power to settle self-pay patient debt, there will be times when you simply cannot prompt the patient to pay their outstanding balance. Best practices indicate that – if after you've pulled out all the stops to collect – you should forward bad debt to a collection agency or receivables management company if an account remains unpaid and overdue for four months. The longer you wait to collect on a balance, the less likely it becomes that you will be able to do so.
When you work with Assistentcy to develop and carry out an early-out program, we can put you in touch with our partner organization, Kansas Counselors, Inc., should you ever need third-party debt collection services.
Don't wait to increase the flow of your medical practice income.
With so much uncertainty in the medical field and health insurance industries, it's hard to keep up. And as patients continue seeking the best care you have to offer, you can expect your patient accounts to regularly carry balances. Make the most from your self-pay patient accounts by partnering with Assistentcy.
Assistentcy serves as your EBO to efficiently manage your self-pay patient accounts. We're not a medical debt collections agency, because we can do so much more than that! Our gentle, patient-centric approach to settling self-pay accounts early in the revenue cycle has been proven to work. Call us at 913-401-4752 or toll-free at 888-455-7498 to learn how Assistentcy can help you.