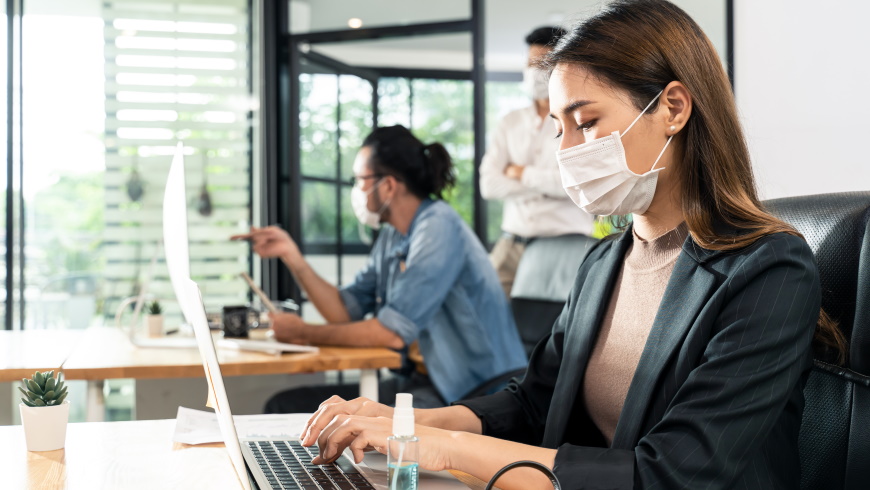 How COVID-19 Has Affected Medical Billing
An EBO Helps Your Medical Practice Stay Up-to-Date on the Latest Guidelines
Partnering with an
extended business office
, like Assistentcy, helps keep you on top of medical billing practices, especially during tumultuous times like these, where novel coronavirus has rocked the medical world – and the entire world. Despite the often-confusing new guidelines related to medical billing and coding coming out as our country struggles to stay on top of the pandemic, you still need a
strategic debt recovery program
to receive payment on patient accounts. This is where Assistentcy truly shines. Let us manage your self-pay patient accounts and work hard to keep them out of collections, eliminate nearly all of your expenses related to early-out medical billing, and stay abreast of the latest laws and developments – especially those related to coronavirus – so you and your team can focus on doing what you do best: providing exceptional patient care. The subject of COVID-19 medical billing is a complex one, so we've broken it down to only what you need to know. Our handy guide will help to prepare you and your medical practice for making future decisions about medical insurance reimbursement and patient billing.
Coding COVID-19-Related Medical Visits
Before we can bill your patients and their insurance for their visits, medical coding must be properly completed, particularly as it pertains to novel coronavirus. ICD-10-CM codes were created specifically for infections due to SARS-CoV-2. Here are the basics related to coding for coronavirus testing, diagnosis, and complications that your coding team should be using:
For confirmed cases, assign code U07.1, COVID-19. The medical provider's documentation that the patient has COVID-19 is adequate for assigning this code; documentation of the type of test performed is not required. Use this code even if the patient is asymptomatic.
For presumptive positive cases, code them as confirmed. Note that presumptive positive means the patient has tested positive for the virus at the local or state level, but the Centers for Disease Control has not yet confirmed the result (which is not required at this time).
For patients for whom the medical provider has documented "suspected," "possible," "inconclusive," or "probably" diagnosis of coronavirus, assign a code that explains the reason for the encounter, such as Z20.828, Contact with and (suspected) exposure to other viral communicable diseases.
For codes requiring sequencing, as when COVID-19 is the principal diagnosis, code U07.1, COVID-19 should be sequenced first, followed by codes for associated conditions, such as pneumonia (J12.89); acute bronchitis (J20.8); lower respiratory infection (J22); or acute respiratory distress syndrome (J80).
If a patient is seen for a concern about possible exposure to novel coronavirus, but it is ruled out after evaluation, use code Z03.818, Encounter for observation for suspected exposure to other biological agents ruled out.
If a patient was exposed to someone confirmed or suspected to be positive for COVID-19, and the patient tests negative, or the test results are unknown, use code Z20.828, Contact with and (suspected) exposure to other viral communicable diseases.
For asymptomatic individuals receiving screening for COVID-19 and have no known exposure to the virus, assign code Z11.59, Encounter for screening for other viral diseases.
If a patient has symptoms of coronavirus and has had actual or suspected contact with someone who has tested positive, assign Z10.828, in addition to appropriate codes describing those symptoms, such as R50.9, Fever unspecified or R05, Cough.
During pregnancy, childbirth, or puerperium, if a patient is admitted because of COVID-19, use the principal diagnosis code O98.5-, Other viral diseases complicating pregnancy, childbirth and the puerperium, followed by U.07.1, COVID-19, and any appropriate codes for signs and symptoms.
If you have any questions related to medical coding for coronavirus encounters with your medical providers, please refer to the latest guidance from the National Center for Healthcare Statistics.
Uninsured Patient Reimbursement for COVID-19 Diagnosis and Treatment
The Families First Coronavirus Response Act (FFCRA) and Coronavirus Aid, Relief, and Economic Security (CARES) Act together appropriate $101 billion in coronavirus relief funds, with much of them allocated for hospitals on the front lines of COVID-19 response and for reimbursing medical providers for conducting COVID-19 testing and providing treatment for uninsured patients. The United States Department of Health and Human Services provides claim reimbursement for providers for testing and treating uninsured individuals with a COVID-19 diagnosis, generally at Medicare rates. Providers can request claims reimbursement through the COVID-19 Uninsured Program Portal through the Health Services and Resources Administration (HRSA). Any medical providers seeking to participate in the reimbursement program must attest that they confirmed their patient is uninsured, after thoroughly checking for healthcare coverage eligibility and confirming that no other payer will reimburse them for care. Providers must also accept the program reimbursement as payment in full and agree not to balance-bill the patient beyond the agreed-upon Medicare rate. For any dates of service on or after February 4, 2020, reimbursement for uninsured patients with a primary COVID-19 diagnosis covers:
Specimen collection, diagnostic and antibody testing.
Testing-related visits, including to the office, urgent care, emergency room, or via telehealth.
Treatment, including what was received during an office visit, in the emergency room, as an inpatient or outpatient, in a skilled nursing facility, in long-term acute care or acute inpatient rehab, home health, DME, emergency ambulance transportation, non-emergent patient transfers via ambulance, and any FDA-approved drugs that may be available and administered during an inpatient stay.
Remember that you may not perform
self-pay medical billing
for uninsured patients for whom you have received reimbursement under these new federal laws. Services not covered under this special reimbursement opportunity are:
Any treatment without a primary diagnosis of COVID-19 (except for pregnancy, when the ICD-10 code for coronavirus must be listed as secondary).
Hospice services.
Outpatient prescription drugs.
For coverage-related questions, seek advice from the HRSA website.
Medicare Advance Payments and Changes to Medicaid in Light of Coronavirus
Under the CARES Act, healthcare entities can apply for advance payments from Medicare. The funds provided under this program are advances on payments for future medical treatment that you will provide to Medicare patients. Following receiving these advance funds, any amount billed to the Centers for Medicare and Medicaid Services for services provided offset the advance payment until it has been fully repaid. Most hospitals will have one year to offset future claims; other facilities will have 210 days. Other new developments in government-funded health care include:
Medicare inpatient payment rate increased by 20 percent for treating COVID-19 patients.
Delayed annual 2 percent cut in Medicare payments.
Reduced or delayed cuts in Medicaid disproportionate share (DSH) funding.
These changes mean your
revenue cycle
could benefit from increased payment amounts from patients with government-funded insurance and because of guaranteed reimbursement for uninsured patients.
Private Insurance and Medical Billing for COVID-19
According to the Kaiser Family Foundation, more than 170 million people in the US are covered by group or individually-purchased private health plans. Unfortunately, the FFCRA's requirement that most private health plans are required to cover COVID-19 testing with no cost-sharing does not extend to certain private coverage, including short-term policies, health care sharing ministries, or Farm Bureau private coverage. Under the new law, medical providers can consider people with these types of private coverage to be uninsured; providers are eligible to request reimbursement through Medicare for testing and diagnosis. However, ACA-regulated health plans must cover coronavirus testing and waive cost sharing and prior authorization in physician offices, urgent care centers, and emergency rooms. The law does not address private health plan coverage, cost-sharing for COVID-19 treatment, or balance billing.
Let Assistentcy Handle Your Early-Out Billing
Changes to insurance coverage and allowed medical billing has gotten complex thanks to the coronavirus pandemic. If keeping up with these changes has forced your daily operations duties to take a back seat, contact Assistentcy to learn how we can serve as your extended business office and take these responsibilities off your plate. "Assist" is in our name for a reason.
Contact us
to learn more about what Assistentcy can do for you.